Premium, Veterinary Developed Dog Food, Delivered to your door
Confused about what to feed your dog?
With Genius you can trust that you're getting a great tasting, veterinary formulated, premium dog food packed full of high quality ingredients that will support a healthy skin and gut and provide the best nutrition possible for your pet.
Only natural, wholesome ingredients
Our protein packed, nutrient dense dog food contains:
✔ Fresh New Zealand King Salmon - because dogs need high quality real meat protein
✔ A carefully balanced ratio of rice & vegetables to maximise amino acid availability for optimal nutrition & heart health
✔ Added fruits to enhance the gut microbiome
✔ Nature's anti-inflammatories - Fish Oil, Turmeric, Flax Seeds & Sunflower Seeds
✔ And it's naturally preserved with rosemary, peppermint & green tea extract
Why choose Genius?
✔ Our single protein, allergy friendly recipe is designed specifically for skin and gut health
✔ Enriched with Omega 3 & 6 Fatty Acids for joint health
✔ Low in fat for optimal weight control and perfect for breeds prone to pancreatitis
✔ Veterinary developed and formulated by leading animal nutritionists
✔ Made right here in New Zealand using as many local ingredients as possible
Natural Nutrition, Backed by Science
As a veterinarian I've seen the affects of poor quality nutrition on pet health. Now with the concerning link between grain free pet foods and heart disease, there is a real need for a dog food that's developed by scientists, rather than corporate marketers - so I created Genius.
I also offer one on one nutritional support so you can be confident you are making a wise choice for your pet.
Let us do the fetching!
We make it easy to feed your best friend New Zealand's best dog food with our simple subscription delivery service
✔ Get our premium quality pet food delivered straight to your door
✔ Change, skip, or cancel your order anytime
✔ Never worry about running out of pet food again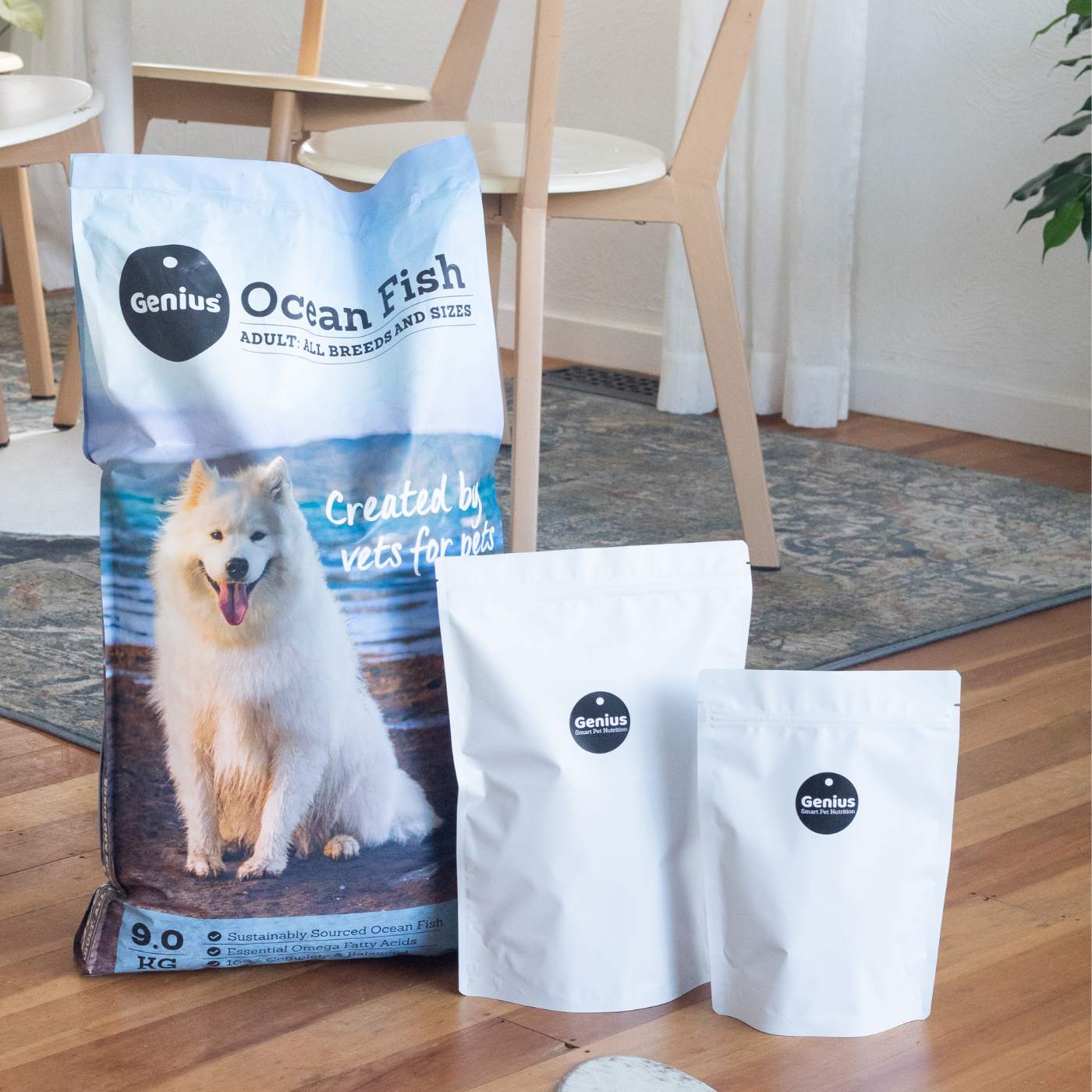 Got a Fussy Eater?
Because our food is packed with real meat protein it's generally well loved even by the fussiest dogs. You can check out our reviews here.
But we totally understand it can be a bit nerve wracking buying a large bag of dog food when you've got a picky eater in the family.
You can now try a smaller quantity by ordering one of our 600g or 1.2kg trial packs.
AND we'll send you a discount code so you can claim the cost of your trial pack back off your first purchase of a 9kg bag.
Sign up for our newsletter and be in to win a 9kg bag of Genius Dog Food valued at $129